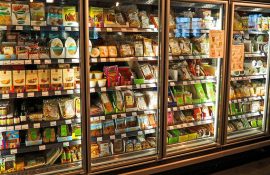 Most people don't think twice when they see our Quality Refrigeration vans out and about. Have you ever stopped to think where these vans are headed, what industries they serve? For over 40 years, we have provided our commercial clients with the highest quality furnace and air conditioning installation and service. And we don't stop at providing comfortable workplaces and spaces. We provide services to a whole host of industries that you may not realize, that you use every day here in the Twin Cities.
Warehouse Cooling
Quality Refrigeration installs and maintains massive cooling units for industrial warehouses that store food until it's time for delivery. Stores and restaurants rely on these warehouses to keep these foods and drinks at the right temperature until they are loaded on the trucks and delivered all over Minnesota and the greater Midwest.
Grocery Store Coolers
We also prep and repair reach-in coolers and storage units for the grocery and neighborhood stores that receive the deliveries. These stores provide easy access to all your perfectly-chilled favorites. Think of us the next time you stop off for a few essentials on the way home; chances are good we were there!
Restaurant Refrigeration
Additionally, Quality Refrigeration technicians provide walk-in freezers and refrigerators for many of your favorite restaurants around town. We install chilling stations and ice machines to keep your salads and drinks deliciously cold. Little did you know, Quality Refrigeration was a key ingredient to many of the best meals you've had while dining out!
Coolers for Laboratories
Our reach continues past food. We provide coolers for bio labs to keep samples at just the right temperature. This allows doctors and scientists to do their work without specimens spoiling or growing out-of-control. Our coolers allow labs and hospitals to grow and keep cultures that ensure public health and safety. Our service, along with the equipment we provide, is instrumental for research and scientific advancements.
Comfortable Workplaces
We also provide the giant rooftop air conditioning units you find in office complexes, manufacturing plants and shopping centers. Our aim is to provide a comfortable work and shopping experience for thousands of employees and customers every day.
So, the next time you see a Quality Refrigeration van on the road, think of all the places that we install, repair, and maintain heating and cooling features that benefit you and your family every day. And remember, Quality Refrigeration is here to assist with all of your commercial HVAC-R needs.